Public access
Open
Date & Time
02 June – August, 2023
Language
Turkish
Programme
Scroll down the page to see the packed schedule of events!
Istanbul, a vibrant 8500 year-old city of more than 16 million inhabitants. The intersection between east and west. Hundreds of people caring for and feeding stray animals quietly, consistently. Leaning against a wall which must be at least a thousand years old, and noticing a newly planted ivy holding onto it. At a vibrant birthday party, looking out of the window to see a dead, silent cemetery. Human/nonhuman, ancient/new, life and death. A population which lives, co-exists together, if not, yet, always peacefully. But each claiming the city as home and a place for all.
TOGETHERNESS
Istanbul, home for many civilisations since the Neolithic era and still home for more than 20 million people, as well as home to thousands of stray /wild animals in addition to countless historical buildings belonging to different eras of the city's life. Against all the odds, people, members of urban ecology, time and places try to co-exist and form a life together.
Open public discussions, meetings on Co-existence/Togetherness are planned in many parts of the city, supported by film screenings and literary reading sessions. During these meetings and discussion sessions the real meaning of the concept will be examined, tested and explored.
The main aim/s of the project is to re-member, re-define and re-construct the various possible reflections of the concept of the daily lives of the inhabitants of the city, and in the political arena of the world.
Social Media campaign
The events in Istanbul have been proceeded by a social media campaign and teaser shorts, some of which are included here.
Programme
Friday 2nd June
10.00: "Co-existence" Meetings with students
Location: Istanbul University, Literature Department
Monday 5th June
"Is it possible to co-exist?" Talks (free and open to public)
Location: Yapı Kredi Cultural Centre
18.30: Opening – Speaker, Ahsen Erdoğan
18.35: 100th year of Ulysses- Co-existence – Speaker, Gülen Güler
19.00: İstanbulian Joyce – Speaker, Fuat Sevimay
19.30: The reality of metropolis and Istanbul as the place to co-exist – Speaker, Bekir Ağırdır
20.00: Auditory networks-connecting, Forms of co-existence during Covid – Speakers, Begüm Özden Fırat, Çisel Karacebe, Suzy Levy
Tuesday 6th June
"Is it possible to co-exist?" Talks (free and open to the public)
Location: Yapı Kredi Cultural Centre
18.30: Opening – Speaker, Ahsen Erdoğan
18.35: Parallel Public Spaces – Speaker, Besim Dellaloğlu
19.00: Coexistence of Impulses as a Mental Necessity – Speaker, Talat Parman
19.30: A lack of consensus and benefits being useless, possibilities being impossible – Speaker, B.Nihan Eren
20.00: Istanbul from Feminist Perspective: Practices, places, togetherness – Speaker, Yağmur Yıldırım
Talks are open to public and free.
8th June- Thursday
14.00: "Co-existence" Meetings with Students
Location: Bosporus University
18.30: Taşkafa: Stories of the streets Documentary Film Screening
Location – Yapı Kredi Cultural Centre Loca (free and open to the public)
Saturday 10th June
13.00-15.00 -17.00: Sunset Melodrama Dance Performance (film available below)
Location – Yapı Kredi Cultural Center, Street Front
Choreography: Melih Kıraç
Performance: Barış Diker, Demet Aksular, Diana İzel Koç,Kamola Rashidova, Umut Özdaloğlu
Music: İKKİ Duo
Sound Design/ Composition: Fulya Uçanok, Zeynep Ayşe Hatipoğlu
Costume: Guaj London
Production Design: Apo usta, Melih Kıraç, Serkan Aka
Let's talk about friendship Reading and Philosophy workshop for children
Location – Yapı Kredi Cultural Centre, Loca
11.00 – 12.00: "Film Soundtrack" 6-9 ages, Çisel Karacebe
14.00-15.00: "Lilli's Hat" 10-13 ages, Çisel Karacebe
16.00 & 18.00: 9/8fight4 1 a 9/8 fight for all of us Documentary Film Screening
Location – Yapı Kredi Cultural Centre
Director, Choreography, Editing: Gizem Aksu
10th -15th June
Documentary Film Festival: films about co-existence
Sunday 11th June
SAAT:13.00 -16:00: 'Togetherness' Meeting with diverse inhabitants of Balat.
Location – Balat Cultural Centre
15th June – 15th August
'In Between' Sevinç Altan, Street Art Installation
Location – Throughout Istanbul
Sunday 18th June
16.00: Sound and Words, Music of James Joyce Talk – Speakers, Okuma Bahçesi, Mimar Sinan Fine Arts Academy, Assc Prof, Zeynep Bilge and Sungu Okan
Location: Tophane-i Amire Cultural Centre
Tuesday 20th June
"A Day in Istanbul" Painting Exhibition: 18 Paintings by Hannah Stevenson
Location – 44A Sanat Galerisi
25th June onwards
18 Hours in Istanbul, Moments from the City Digital Video Performance
Artists: Alper Şen, Sine Ergün, Eda Emirdağ
The dates and some of the invited guest speakers may be subject to change.
Sunset Melodrama dance performance
A touching dance piece explored coexistence in front of the publishing house, Yapı Kredi Kültür Sanat, which published the first Turkish translation of Ulysses. It is situated on a huge main street, people passing by were drawn from the street to watch – the democracy of public spaces which was so important to Joyce.
Translating Ulysses screening
During the Documentarist Film Festival, Translating Ulysses was screened – a film about writer Kawa Nemir taking on the near impossible literary mission of translating Ulysses into Kurdish. Directed by Aylin Kuryel and Firat Yucel.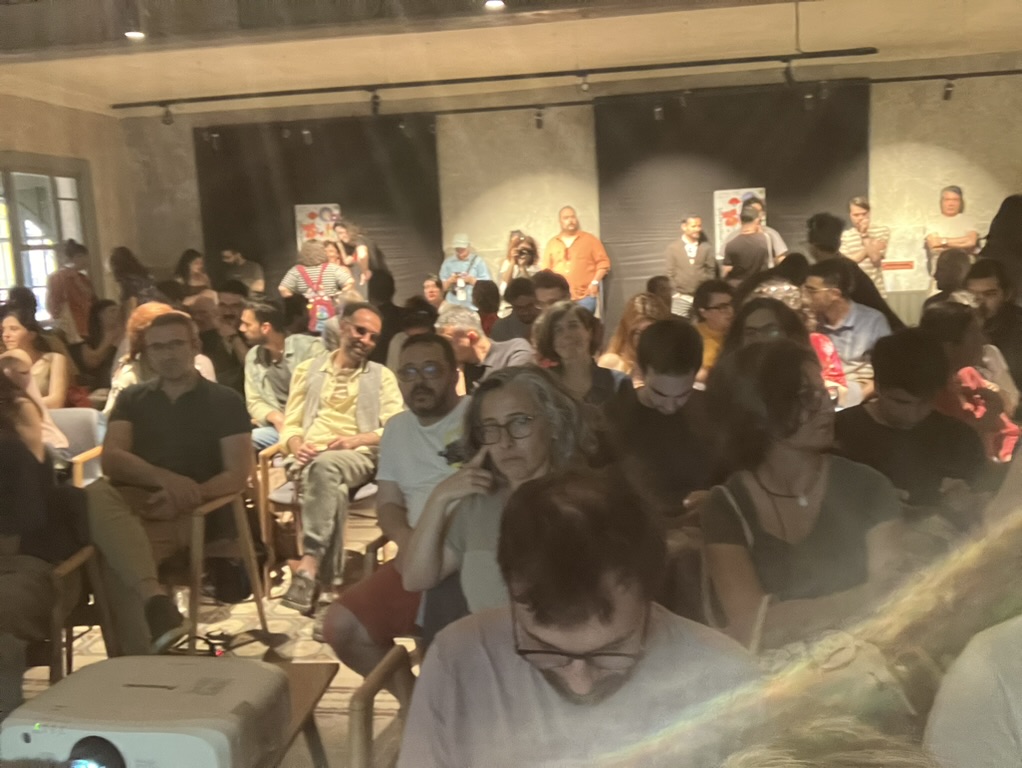 Meetings with students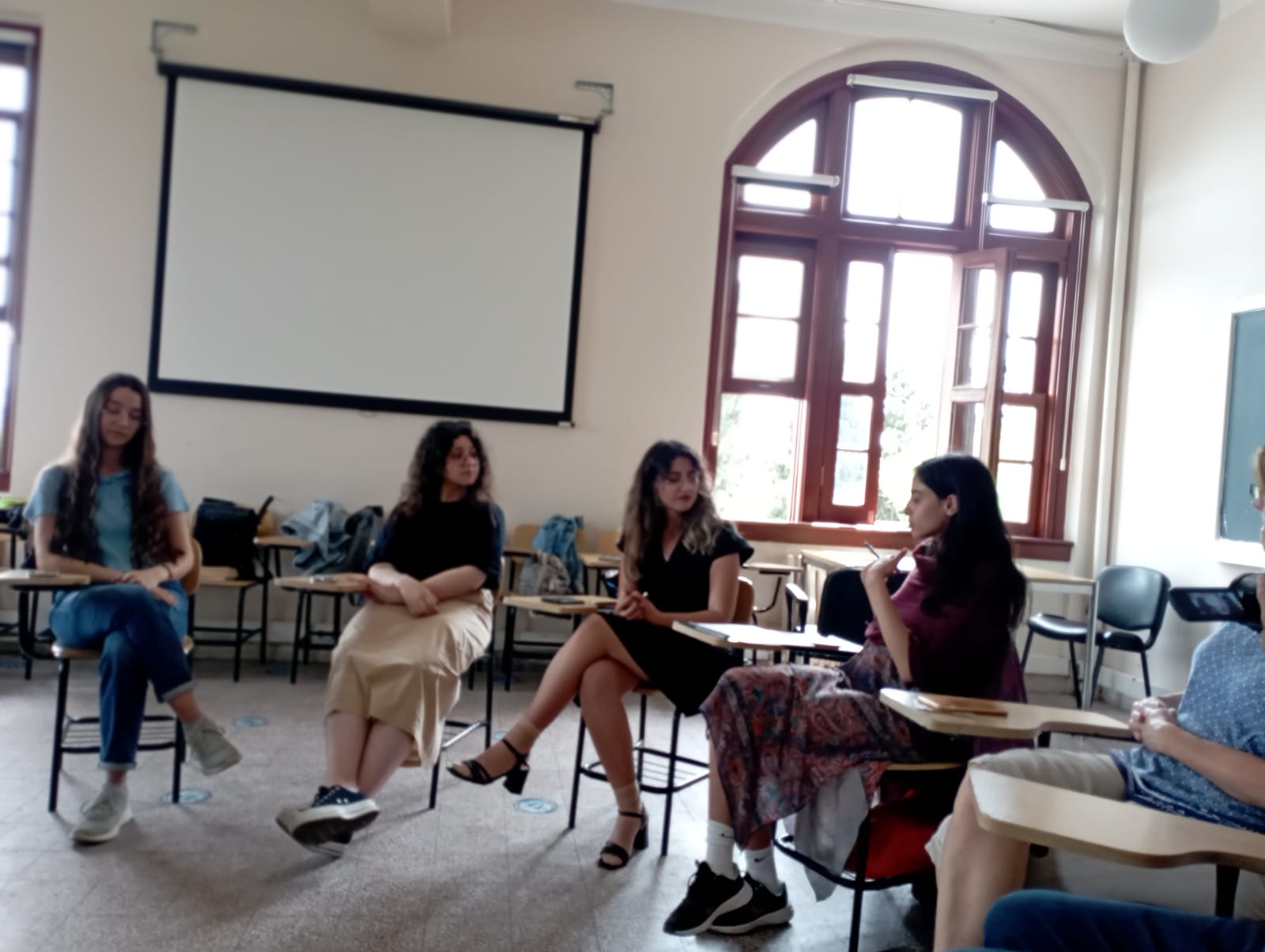 Public talks